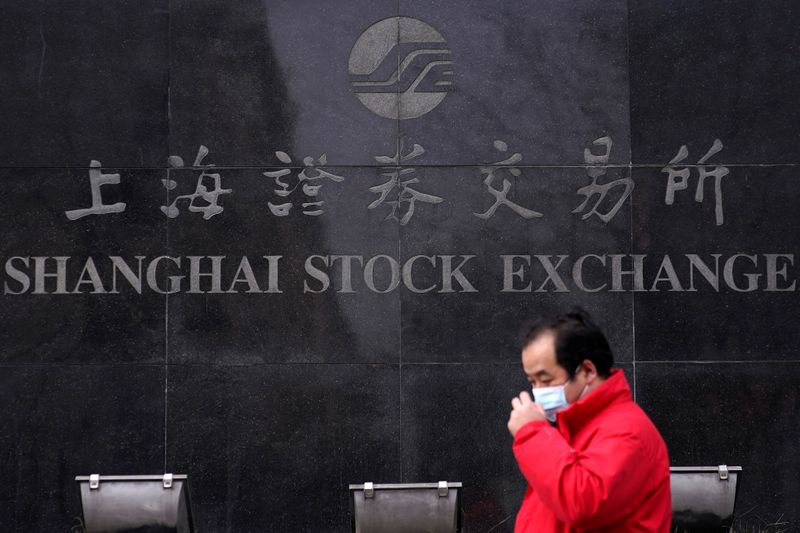 Asia-Pacific Stocks Follow Wall Street in Decline as Tech Shares Take a Hit.
Asia-Pacific stocks were lower on Friday, following Wall Street's sharp declines overnight. Australia led losses among the major markets regionally, with the S&P/ASX 200 declining 3.06% on the day to 5,925.50.
Mainland Chinese stocks also closed lower. The Shanghai composite dropped 0.87% to approximately 3,355.37 while the Shenzhen component declined 0.84% to about 13,656.66. Hong Kong's Hang Seng index slipped 1.25% to end its trading day at 24,695.45.
The Kospi in South Korea dropped 1.15% on the day to 2,368.25, while Japan's Nikkei 225 declined 1.11% to close at 23,205.43 and the Topix index shed 0.9% to finish its trading day at 1,616.60.Overall, the MSCI Asia ex-Japan index declined 1.29%.
Shares of Apple suppliers in Asia declined, with Sharp and Murata Manufacturing in Japan slipping 0.65% and 1.56%, respectively. Shares of Taiwan Semiconductor Manufacturing Company also declined 1.61%. AAC Technologies' in Hong Kong dropped 2.14%.
The moves came after the Cupertino-based tech giant saw its shares plunge 8% on Thursday, it's biggest one-day decline since mid-March.
Chinese tech stocks listed in Hong Kong also came under pressure. Tech behemoth Alibaba saw its stock in the city drop 3.59% while Tencent also slipped 3% and Meituan Dianping dipped 0.3%. It came as the Hang Seng Tech index fell 1.53% on the day to 7,588.02.
The moves in Asia-Pacific came on the back of overnight declines on Wall Street. The Dow Jones Industrial Average plunged 807.77 points, or 2.8%, to 28,292.73 — its biggest one-day decline since June 11. The S&P 500 slid 3.5% to 3,455.06 and the Nasdaq Composite fell by 5% to close at 11,458.10.
"There has been no obvious catalyst for the move," National Australia Bank's Rodrigo Catril wrote in a note. "Now the question is whether the correction has legs or whether investors are temped back in."
On the economic data front, Australia's retail turnover rose 3.2% on a seasonally adjusted basis in July, according to figures released Friday from the Australian Bureau of Statistics. That followed the June quarter gross domestic product figures released earlier this week that showed the country officially entering a recession.
Following the data release, the Australian dollar traded at $0.7282 after seeing an earlier low of $0.7249.
Later Friday stateside, a closely watched U.S. jobs report was also set to be released, with economists polled by Dow Jones expecting the U.S. economy to have added more than 1 million jobs last month.
Tuan Huynh, chief investment officer for Europe and Asia-Pacific at Deutsche Bank International Private Bank, told journalism on Friday that he expected the payrolls data to be a "nonevent" given the recent correction in markets.
"The expectations is between one to one-and-a-half million new jobs created, if it's plus-minus a few hundred thousand I don't think … this will then move the needle in either direction," Huynh said.
The U.S. dollar index, which tracks the greenback against a basket of its peers, was last at 92.76 following its bounce this week from levels below 92.
The Japanese yen changed hands at 106.18 per dollar after it strengthened yesterday from the 106.5 handle against the greenback.
Oil prices were higher in the afternoon of Asian trading hours, with international benchmark Brent crude futures up 0.39% to $44.24 per barrel. U.S. crude futures added 0.63% to $41.63 per barrel.