Kenya's largest mobile telecommunications operator Safaricom Plc, has officially launched the E-Sim service. Safaricom becomes the second telco after Jamii Telecommunications Limited (JTL) introduced the service to the Faiba network subscribers in January this year.
The launch came in at an opportune time, just a day before Safaricom's officially unveiling of the license in Ethiopia, an event which was attended by Kenya's president, Uhuru Kenyatta.
But, What is an eSIM
The term eSIM simply refers to an embedded SIM card. With one of these, there are no physical SIM cards involved and so no physical swapping over required by the user. Before one gets to an eSIM, their devices needs to be supported by the network or carrier and enabled by them.
As the world's technology continues to advance, developments like the E-Sim are constantly changing how we see things, and some of them also aimed towards making the world eco friendly since the production of the physical sim will significantly reduce.
How to Onboard Safaricom's eSIM
To get the Safaricom eSIM service, you will need to go to your nearest Safaricom Shop for the transfer of your data from the physical sim to the eSIM. This is in line with the government's requirement that every SIM Card be registered using a valid Kenyan identification document and the same needs to be validated by a Safaricom staff.
The service is not available to all devices since the e-sim feature is only available on select devices. These devices are:
Apple Devices (iPhone XR, XS, XS Max, 11, 12, and SE 2020)
Samsung Phones (The Galaxy S21, S20, Z Fold 2, and Note 20)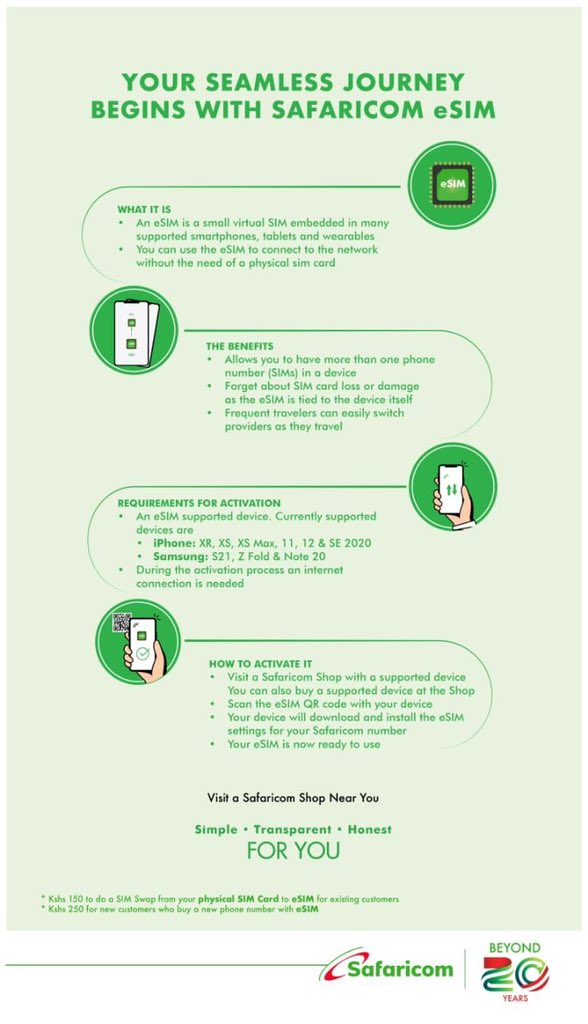 The cost for the eSIM service will be at Kes 400, a Kes 250 for a new eSIM and Kes 150 for migration from your old sim card to eSIM. Subscribers will then be provided with a physical card that hosts a QR code for the eSIM activation code together with the traditional 2 PINs and PUKs numbers.
All that is left is for the user to connect to the internet and activate the eSIM, by scanning the phycial QR code and follow the instructions on their devices.
Also Read: Safaricom Led US$ 850 Million Consortium to Start Ethiopia Operations in 2022