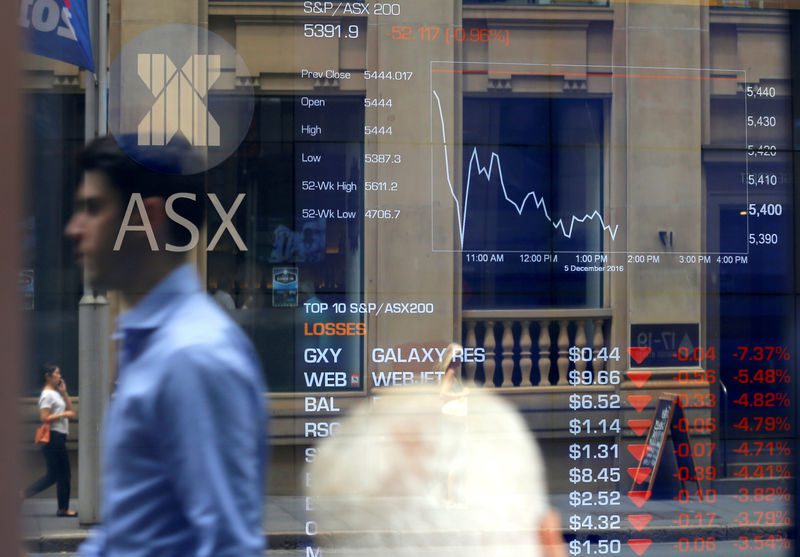 Asia Pacific stocks mostly lower Ahead of July Economic Data Releases
Stocks in Asia Pacific mostly traded lower Friday morning as investors await several economic data releases for July.
Mainland Chinese stocks declined, with the Shanghai composite down 0.56% while the Shenzhen component shed 0.648%. Hong Kong's Hang Seng index also dipped 0.55%.
In Japan, the Nikkei 225 slipped 0.19% in morning trade while the Topix index added 0.21%. South Korea's Kospi advanced 0.3%.
Meanwhile, shares in Australia dipped, with the S&P/ASX 200 shedding 0.34%. Overall, the MSCI Asia ex-Japan index dipped 0.34%.
In corporate news, shares of Korean Air Lines soared more than 7% in Friday morning trade. The moves came after the airline reported a net profit in the second quarter on the back of strong cargo demand, according to local news agency Yonhap. The positive earnings report came despite the coronavirus pandemic's toll on the global airline industry.
Japanese game maker Nintendo also saw its stock jump more than 3% after the firm on Thursday reported a 428% surge in profits.
The Reserve Bank of Australia said in its monetary policy statement released Friday that the pace of recovery of the Australian economy is "expected to be slower than previously forecast."
"Generalised uncertainty and deficiency in demand have turned out to be more of a drag on growth than previously thought," the Australian central bank said, acknowledging that recent measures taken to address the coronavirus spread in the state of Victoria "will further delay the recovery."
The Australian dollar changed hands at $0.7224 following the RBA's monetary policy statement release, having seen an earlier high of $0.7243.
Overnight on Wall Street, the Dow Jones Industrial Average closed 185.46 points higher, or 0.7%, at 27,386.98. The S&P 500 rose 0.6% to end its trading day at 3,349.16 while the Nasdaq Composite advanced 1% to close at 11,108.07.
The moves on Wall Street came as the Labor Department reported better than expected initial jobless claims for the week ending Aug. 1. The figure totaled 1.186 million, lower than a Dow Jones estimate of 1.423 million and the lowest claims level since the pandemic began.
The U.S. dollar index, which tracks the greenback against a basket of its peers, was at 92.875 after sliding from levels above 93.6 this week.
The Japanese yen traded at 105.55 per dollar after seeing levels around 106.4 against the greenback earlier in the trading week.
Oil prices were higher in the morning of Asian trading hours. International benchmark Brent crude futures were up 0.33% to $45.24 per barrel. U.S. crude futures also added 0.45% to $42.14 per barrel.