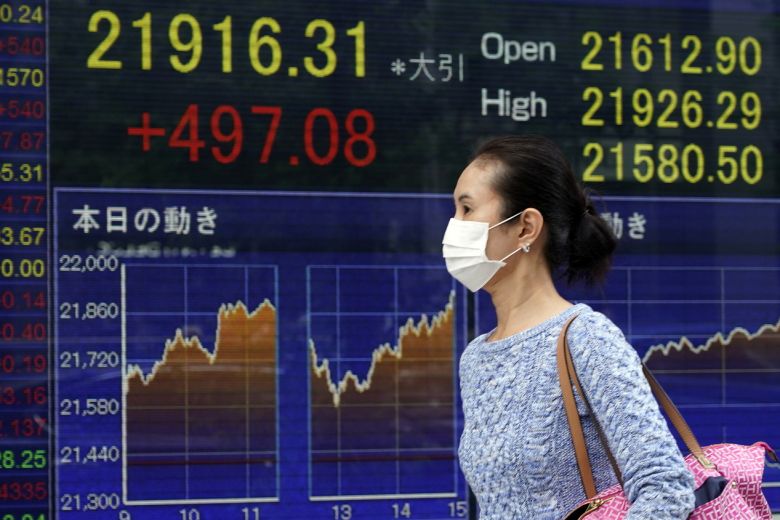 Asian Markets Mixed as Data Shows Japan Economy Shrinked in Second Quarter
Stocks in Asia Pacific were mixed on Monday as tensions between the U.S. and China continue to weigh on investor sentiment.
Mainland Chinese stocks were higher on the day. The Shanghai composite jumped 2.34% to about 3,438.80 while the Shenzhen component added 1.877% to approximately 13,742.23.
Hong Kong's Hang Seng index gained around 1%, as of its final hour of trading. Shares of Chinese smartphone maker Xiaomi surged about 6% after Friday's announcement of the stock's inclusion into the Hang Seng Index with effect from Sept. 7.
Elsewhere, Japan's Nikkei 225 slipped 0.83% to close at 23,096.75 while the Topix index dipped 0.84% to end its trading day at 1,609.82.
Japan's economy shrank 27.8% on an annualized basis in April-June, according to government data released Monday. That was the sharpest contraction on record, according to Reuters. The preliminary reading for Japan's second-quarter gross domestic product compared against economists' median estimate of a 27.2% decline, Reuters reported.
″(Japan's) second-quarter GDP reading was well expected," Ken Wong, Asia equity portfolio specialist at Eastspring Investments, told CNBC's "Street Signs" on Monday. He cited factors such as Japan being in a lockdown for most of April and May.
"It is unfortunate but it's one of those situations where, you know, I think most people had anticipated," Wong said. "We are expecting to see a revival in third quarter GDP, to some extent, when you compare it on a quarter-on-quarter basis."
Shares in Australia declined, with the S&P/ASX 200 down 0.81% to close at 6,076.40.
Overall, the MSCI Asia ex-Japan index advanced 0.46%. Markets in South Korea were closed on Monday for a holiday.
U.S. President Donald Trump issued an executive order Friday forcing China's ByteDance to sell or spin off its U.S. TikTok business within 90 days. In his order, Trump cited "credible evidence" that ByteDance "might take action that threatens to impair the national security of the United States."
Meanwhile, Reuters reported over the weekend that a planned U.S.-China trade deal review initially set for Saturday was delayed with no new date agreed upon, citing sources familiar with the plans. The sources told Reuters that the delay was due to scheduling conflicts as well as to give time for more Chinese purchases of U.S. exports.
Those developments came as tensions between Washington and Beijing have heated up in recent weeks.
"For now there is no signs the trade deal is in jeopardy with the review's postponement seen as an allowance for China to increase its purchase of US agricultural goods, which are way behind schedule," Rodrigo Catril, a currency strategist at National Australia Bank, wrote in a note.
The U.S. dollar index, which tracks the greenback against a basket of its peers, was at 92.934 after its decline last week from levels above 93.6.
The Japanese yen traded at 106.44 per dollar, weakening from levels below 106.4 against the greenback last week. The Australian dollar changed hands at $0.7183 after touching the $0.711 handle last week.
Oil prices were higher in the afternoon of Asian trading hours, with international benchmark Brent crude futures up 0.67% to $45.10 per barrel. U.S. crude futures also gained 0.81% to $42.35 per barrel.
Source: Monsun Asia, CNBC, Refinitiv