Sycamore Capital's mobile-based unit trust app Cashlet is gearing for launch in the Kenyan market to bridge the low savings culture in the country. Eyeing to boost financial inclusion, the personal finance app promises a simple, convenient through digitized, goal-based savings and investment platform.
The beta version of the app is set to launch in mid-February 2022, with the app teasing features of instant deposits and withdrawals through M-Pesa for amounts as low as Ksh. 500, you can sign up to join their waitlist already.
Cashlet is coming to Kenya at a time when the country's savings culture is among the lowest in East Africa. According to 2020 World Bank data, Kenya's savings rate stood at 14%, 7% lower than the African average. All her East African counterparts boast a higher savings rate, with Tanzanians savings close to three times more than Kenyans at 36%. Uganda's and Rwanda's rates stood at 22% and 12% respectively.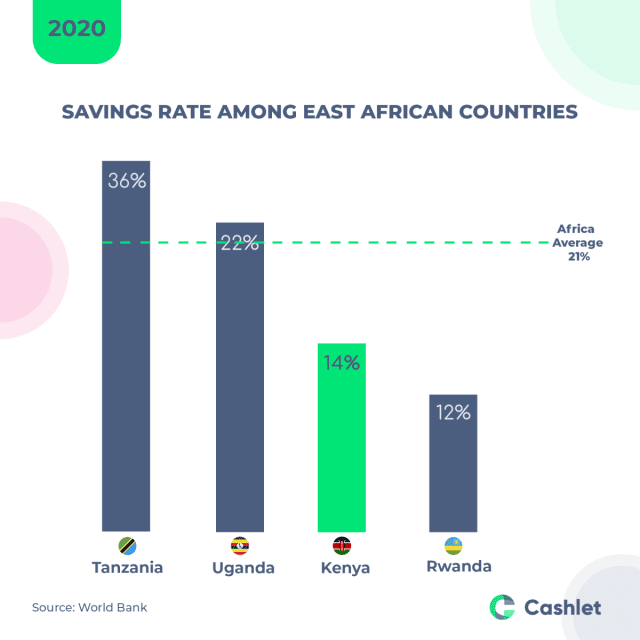 There have been various reasons attributed to the low savings culture in Kenya, especially amongst young people. EFG Hermes Kenya attributes the poor savings culture to high spending, as many young people chase trends.
"Kenyans are well connected to the world, thanks to both high mobile phone and internet penetration. Most young people tend to copy expensive lifestyles in the west, hence high spending power."
Additionally, the report also points to other factors like low levels of mentorship and financial literacy, a gap that Cashlet is looking to bridge.
READ ALSO: Cashlet App Admitted to CMA Sandbox, Pioneering Access to Unit Trust Investing for Kenyans.