Morning Note: Recession is Here.
Trading on Philippines Stock Exchange will resume on march 19th after the country temporarily halted trading on all Capital markets instruments yesterday. The finance minister in a statement, told investors not to worry on the lockdown of Capital Market instruments.
There was talk towards the end of last year about recession, but it didn't happen. Not so now. Goldman Sachs and Morgan Stanley economists joined the rush on Wall Street to declare that the coronavirus has now triggered a global recession, with the debate now focusing on its likely length and depth.
Stocks in Asia & Emerging Markets are most likely set to build on a rally after a surge in U.S. equities, with investors monitoring the Fed's increased efforts to offset the economic impact from the coronavirus. Globally, treasuries slumped and futures opened higher in Japan and Hong Kong after the S&P 500 gained 6%. Treasuries continued to drop, pushing the 10-year yield back up above 1%. At one point rates on 10- and 30-year bonds shot up more than 36 basis points, their biggest one-day increases since 1982. Huge gyrations across assets are continuing to keep expectations high for further swings as countries respond to increasing lockdowns on movements of people and business operations. Elsewhere, crude fell (again) by 6.6%.
The Nairobi Securities Exchange continues to run in a dark tunnel as Kenya recorded an additional COVID-19 case. Kenya's health minister Mutahi Kagwer asertained that more cases could sprout and also affirming to the press that a total lockdown as seen in Italy and as was in Wuhan, is an option the Kenyan government has on the table.
After a slowed market activity on the exchange yesterday, the NSE20 share index had one of the slowest declines this week, only shedding 5.12 points. With the new case of the Corona Virus and increased efforts by Trump, we could see increased foreign outflow on the market as foreign investors run for the dollar.
In commodities, Gold extended gains into a second day after governments and central banks flagged they'll take more aggressive action to handle the economic fallout of the coronavirus outbreak.
Spot bullion advanced as much as 1.2% to $1,546.41 and traded at $1,542.68 as of 6:42 a.m. in Singapore, after snapping a run of declines to rise almost 1% on Tuesday. The metal tumbled Friday to the steepest weekly loss since 1983.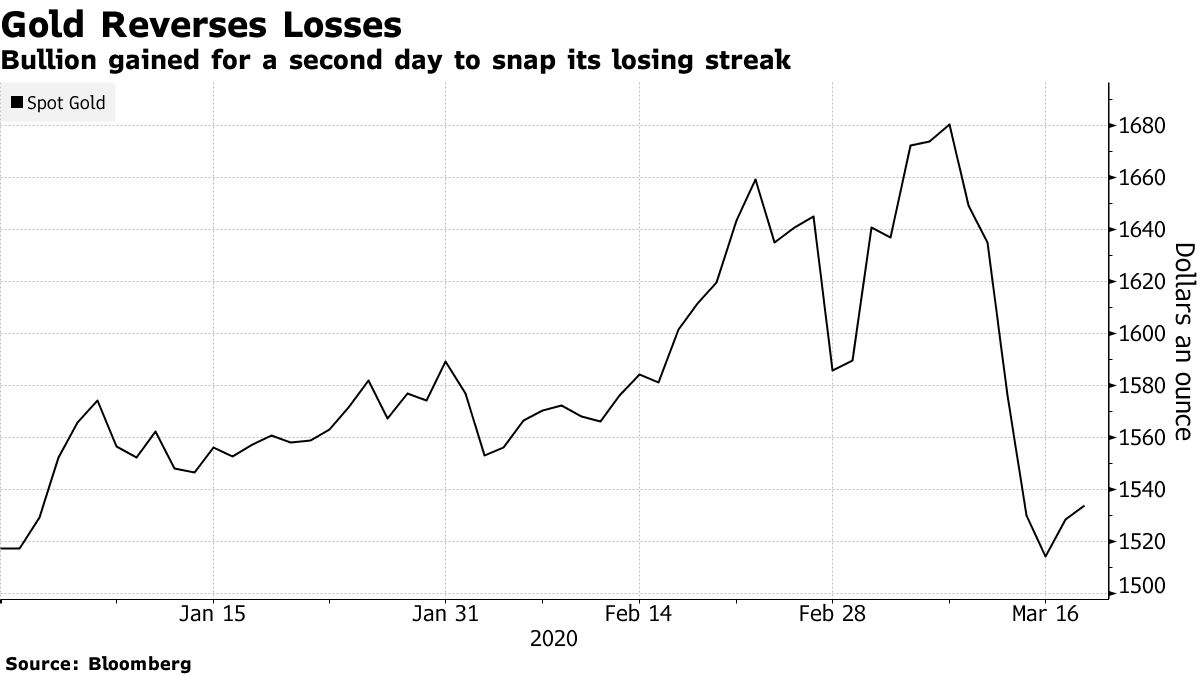 Here's a wrap up of top Global Markets news.
Stocks
Futures on the the S&P 500 fell 1.5% as of 11:57 a.m. in Tokyo. The index rose 6% on Tuesday.
Japan's Topix index added 2.7%.
Hong Kong's Hang Seng added 0.2%.
Shanghai Composite rose 0.6%.
Euro Stoxx 50 futures lost 1.5%.
Australia's S&P/ASX 200 Index sank 4.8%.
Currencies
The yen was up 0.5% at 107.21 per dollar.
The offshore yuan was at 7.0259 per dollar.
The euro bought $1.1016, up 0.2%.
Bonds
The yield on 10-year Treasuries fell to 1.00%. It had risen 36 basis points on Tuesday.
Australian 10-year yields climbed 12 basis points to 1.16%.
Japan's 10-year yield rose to 0.015%.
Commodities
West Texas Intermediate crude added 0.6% to $27.10 a barrel.
Gold was at $1,531.18 an ounce, up 0.2%.