Cashlet App will debut on the Google Play Store in 2 days. The platform promises an easy way to save directly from your mobile wallet, as well as interests on savings through unit trusts. Here are some of the things you should expect:
1. Easy way to Access Funds During Emergencies
You will be able to deposit your savings any time using M-Pesa. Furthermore, you can set different savings goals in the app, contribute towards each goal, and track the progress of your financial goals. In case of an emergency, you can withdraw your money in three steps and have it within a single working day.
READ : Building an Emergency Fund
2. Attractive Interest Rates.
Sycamore Capital has partnered with three regulated fund managers: ICEA Lion Asset Management, Old Mutual Investment Group, and Genghis Capital to offer a digital way to access unit trusts. Users can access three unit trusts, Hela Imara MMF, Digitrust MMF and the Old Mutual MMF. Savings will earn between 8-10% interest rate annually through the money market funds. The app will also give users details on the risk level of each investment option and the average interest for the past year.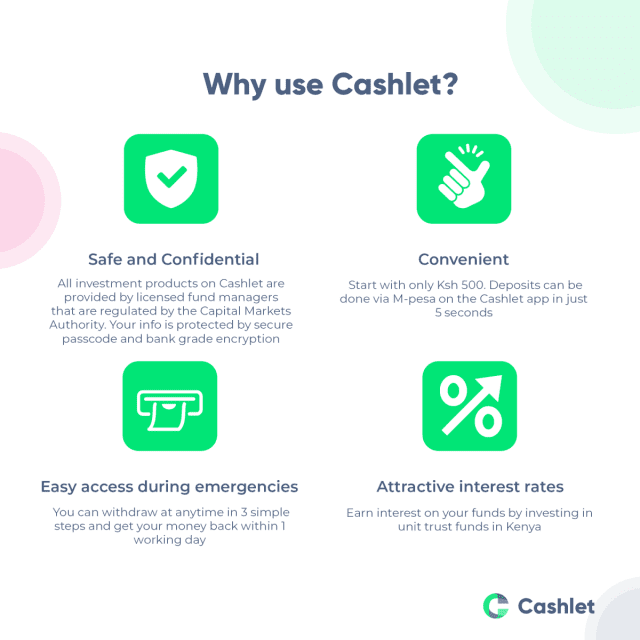 3. Convenience.
Cashlet has an easy signup process that requires minimal details. All you will need to provide is your name, phone number and email address to get started. You will later add your date of birth, address, a photo of your ID and a selfie to verify your identity. The app is free of charge for balances below Ksh 20,000 and charges a monthly charge of Ksh 40 monthly for balances Ksh 20,000. You can start your investment journey with s little as Ksh 500.
4. Security.
Cashlet promises security of users funds and data. Money deposited on platform will move directly to collection accounts of fund managers, who are monitored and regulated by the Capital Market Authority. Customers will access their Cashlet accounts either using a 4 digit pin, or their fingerprint. They will also receive notifications for any transactions on their account.
Sign up on the waiting list to get priority access to the app.