The Johannesburg Stock Exchange was forced to delay its opening on Wednesday by over three hours, following a massive volume of share trading from the day before. The chaotic situation has had a terrible knock-on effect, sparking a JSE outage – and it's believed that a deal between Naspers and Prosus is largely to blame.
Tuesday saw 145 billion South African rand ($9.7 billion) worth of equities traded, the largest daily turnover for the South African bourse since 2007.
The high trading volumes on Tuesday came on the back of a massive sell-off in the shares of index heavyweight Naspers where investors had to adjust their holding in the company post a share swap with its Amsterdam-listed subsidiary Prosus.
Due to elevated trading activity related to a corporate action, equity market opening was delayed this morning. We wish to advise the market that we have resolved all issues arising from yesterday's record trading activity.

— JSE (@JSE_Group) August 18, 2021
Wednesday's delay on the Johannesburg Stock Exchange meant investors in Naspers, the biggest shareholder in Tencent, were unable to immediately trade in reaction to earnings from the Chinese company released after the market close in Hong Kong.
Naspers Limited has a 29% stake in Tencent, the Chinese tech giant, through Prosus. In Amsterdam trading, Prosus shares climbed as much as 5.1% and were 5.1% higher as of mid trading at the Amsterdam Stock Exchange.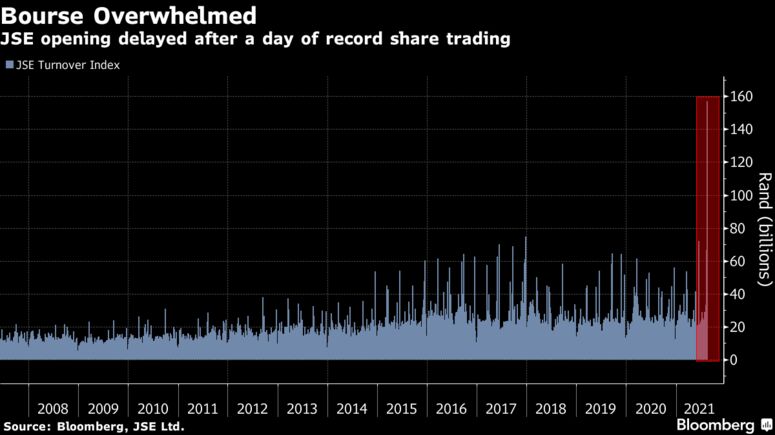 In 2017, the Johannesburg Stock Exchange (JSE) paid out claims from clients and conducted reviews after technical issues prevented equities and derivative trading for an hour and 45 minutes.
Read Also: South African Markets Crash as Johannesburg Stocks Fall Most Since 1997