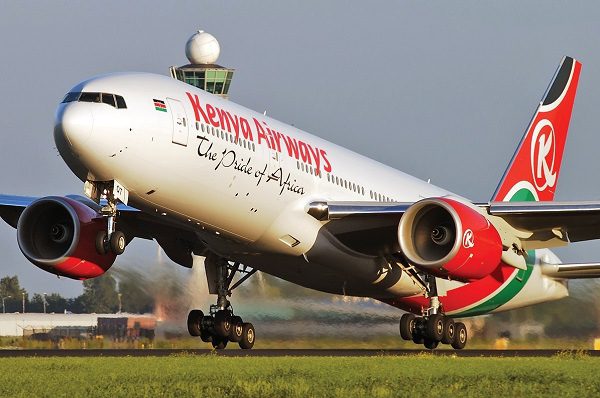 Kenya Airways Posts 67% Rise in Half Year Losses at Sh14.3 billion
National Carrier, Kenya Airways PLC has released their half year results,showing a heavily dented balance sheet for the company, mostly attributed to the lockdown that was effected in Kenya due to the corona virus pandemic.
The network activity from April to June was minimal due to travel restrictions and lock downs effectively reducing operations to almost nil in connecting their home market to key cities.
Kenya airways put in place measures to preserve cash which included cost savings measures and reduced activity for employees.
The Group's total revenue during the period ended 30th June reduced by 48% to Kes 30.12 Billion. The reduction is due to the cessation of scheduled operations in the second quarter of 2020, leaving the airline to operate only a few charter flights and continued cargo operations.
The Airline recorded a 55.5% reduction in passenger numbers to hit a low of 1.1 million passengers during the period compared to 2.4 million passengers over the same period last year. The Passenger revenue in the airline consequently declined by 53% to Kes20, 230 million during the period ended 30th June 2020.
The airline recorded a decline in the Capacity deployed in Available Seat Kilometers (ASKs) by 53.5% during the first six months.  The Cabin factor also registered a decline of 6.7 points to 68%.
Kenya airways saw a decline of 37% in total operating costs, mainly driven by the reduced operations for the year. The direct operating costs for the airline declined by 48.8% whereas fixed costs declined by 12.6% during the period under discussion.
Based on the above revenue and cost dynamics, Kenya airways   recorded an Operating Loss Margin of 27.8% representing 22.9 points below the same period last year.
The company forecasts that the 2020 results will be significantly negatively impacted because of the projected suppressed air travel demand as it will remain at less than 50% of 2019 for the rest of the year.
Kenya airways however assert that it has introduced stringent sanitary measures on board and at every customer touch point to reduce the risk of transmission of the corona virus.