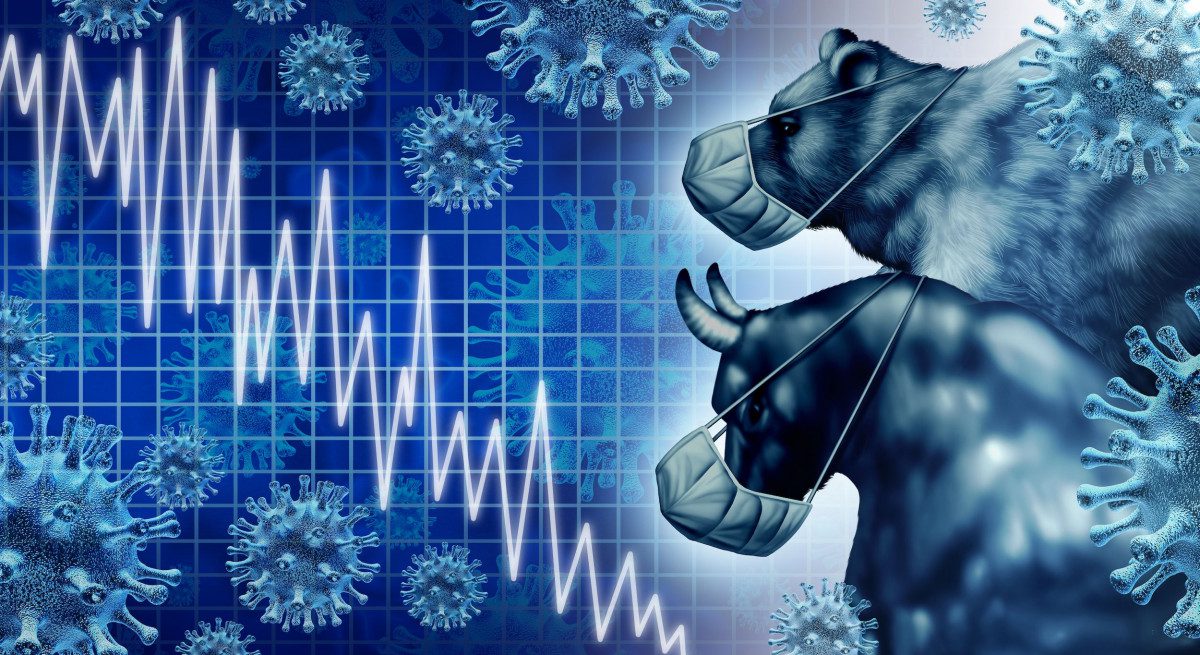 The Trading Room: Weekly Market Review – Week 14, 2020
The major global indices closed lower for the week and rounded out their worst monthly and quarterly performances since 2008.Energy shares handily outperformed within the S&P 500 Index. Oil prices surged following a Thursday tweet from U.S President Donald Trump that he expects Saudi Arabia and Russia to cut production. Investors also reacted to reports that the Saudis had called an emergency OPEC meeting, while China was moving forward with plans to buy oil for its emergency reserves.
Wall Street closed lower to cap a negative week for global stock markets as evidence of the heavy economic toll inflicted by the coronavirus pandemic continued to mount. The benchmark S&P 500 fell 1.5 per cent on Friday after the US recorded its largest pace of job losses since the financial crisis and reports out of Europe showed a sharp contraction in the service sector.
Japanese stocks fell for the week. The Nikkei 225 Stock Average declined 1,569 points (8.1%) and closed at 17,820.19, down 24.7% for the year-to-date period. Equity markets in China were relatively stable over the week, The Shanghai Composite Index and the CSI 300 Index of large-cap stocks both eased back on Friday by 0.6% to end the week broadly flat.
South African stocks, as measured by the FTSE/JSE All Share Index, returned about 3.9%. The market, which fell sharply until the latter part of March, has recouped some losses following the South African Reserve Bank's decision to cut its benchmark repo rate from 6.25% to 5.25%, effective March 20, in an attempt to bolster the economy.
| | | | |
| --- | --- | --- | --- |
| Index | Friday's Close | Week's Change | % Change YTD |
| DJIA | 21,052.53 | -584.25 | -26.23% |
| S&P 500 | 2,488.65 | -52.82 | -22.97% |
| NSE20 |  2013.19. | 95.52 | 4.98% |
| S&P MidCap 400 | 1,337.35 | -82.93 | -35.18% |
| Russell 2000 | 1,052.06 | -79.87 | -36.94% |
Trading at the Nairobi Securities Exchange gathered an upward momentum in terms of price gains on bluchip counters which had been most hit since the markets started to decline three weeks ago, the market also saw reduced volatility as compared to the previous week. The turnover decline week on week by 30.9% to settle at Kes 2.73 Billion against last week's turnover of Kes 3.95 Billion. Market activity declined in terms of volumes traded, with 92 million shares exchanging hands, a 34.6 percent decline in volumes as compared to 140.6 Million shares traded the previous week.
The week's top gainer was Olympia Capital, garnering 25 percent share price appreciation from Kes 2.00 to Kes 2.50 as at close of Friday's trading session. A new entrant to the scene was Kenya Reinsurance corporation limited, gaining by 24.6% week on wee at Kes 2.78 per share. East African breweries which has over the past two weeks faced a loss in value had a turnaround with a 14.8% share price appreciation with shares worth Kes.130.5M transacted, closing at Kes 155.25 per share against the last weeks close of Kes 135.25. Other gainers were Williamson Tea and TPS Serena.
Eveready Plc was the weeks worst performer, closing 13.3% lower at Kes 0.78 per share from Kes 0.90 recorded the previous week. Transcentury & Car and General Plc followed with a 10% & 6.7% decline respectively. Notably,the large cap counters missed from this week's losers list, indicating regained investor confidence in the bourse by both local and foreign investors. Foreign Investors maintained a net-buying position on Safaricom, the week's top feature with 56M shares valued at Kes.1.5Bn changing hands at between Kes.26.00 and Kes.29.50 an equivalent of 56.41% of the week's traded value.
Our forecast on the week ahead, at the present technical juncture, we need to take a look at a couple of points. Despite the ever-continuing fear and uncertainty over the COVID-19 pandemic, all global, emerging and frontier markets, including Kenya, have shown some possibilities of arresting the downside, or that of a measured technical pullback as they stand miserably oversold. As the cases of Covid-19 rise in the country, it still poses the challenges of a possible downturn in terms of stock prices and therefore dimming any stable gains over the next few weeks.
Here's how the NSE Indices performed during the week:
The NSE 20 share index gained 95.52 points or 4.98% to settle at 2013.19
All Share Index (NASI) added 11.38 points or 8.94% to settle at 138.68.
The NSE 25 Share index was up 212.95 points or 7.11% to stand at 3208.81.
The FTSE25 Kenya share index  gained 14.06 points or 8.43% to close Friday at 180.48.
The derivatives market of the Nairobi Securities Exchange (NEXT) closed the week with a total of 17 contracts worth Kes.470,000 transacted. The Safaricom contract expiring in 18th June 2020 had 12 contracts valued at Kes.322,000 transacted. This was a rise in activity as compared to the  5 contracts worth Kes.131,000 transacted the previous week.
The secondary Bond Market registered a decline in activity with bonds worth Kes.8.9 Billion transacted compared to Kes.11.7 Billion registered the previous session. The FTSE NSE Kenya Govt. Bond Index closed the week at 96.51 basis points.