Fed cuts rates, braces for economic fallout from Coronavirus.
The U.S. Federal Reserve has delivered an emergency half-percentage point interest rate cut Tuesday in a bid to protect the longest-ever economic expansion from the spreading coronavirus.
The coronavirus poses evolving risks to economic activity," the Fed said in a statement. "In light of these risks and in support of achieving its maximum employment and price stability goals, the Federal Open Market Committee decided today to lower the target range for the federal funds rate by 1/2 percentage point.
This is the first unscheduled, emergency rate cut since 2008, and it also marks the biggest one-time cut since then. The new benchmark interest rate is 1% to 1.25%. Emergency rate cuts are not without precedent. The Fed's move Tuesday echoed a 50 basis point rate cut it made in October 2008 as markets melted down in the wake of the collapse of Lehman Brothers, and another it made earlier that year.
The move underlines what a fraught moment economic policymakers in the United States and around the world currently face. While they can bolster confidence and help to keep borrowing cheap, there are questions about how effective rate cuts will ultimately be in counteracting the virus fallout. Central banks cannot keep disease from spreading, prevent workers from losing hours at work, or mend broken supply chains amid factory delays.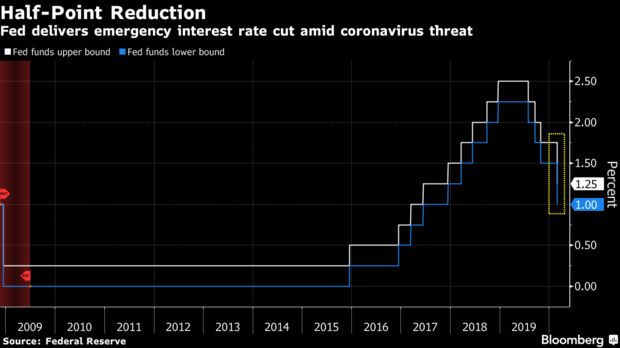 Stocks in the United States rallied immediately after the Fed said it would cut interest rates, but those gains then faded.
The S&P 500 was erratic after having spiked more than 1 percent immediately after the announcement. Britain's FTSE 100 and Germany's DAX were about 2 percent higher.