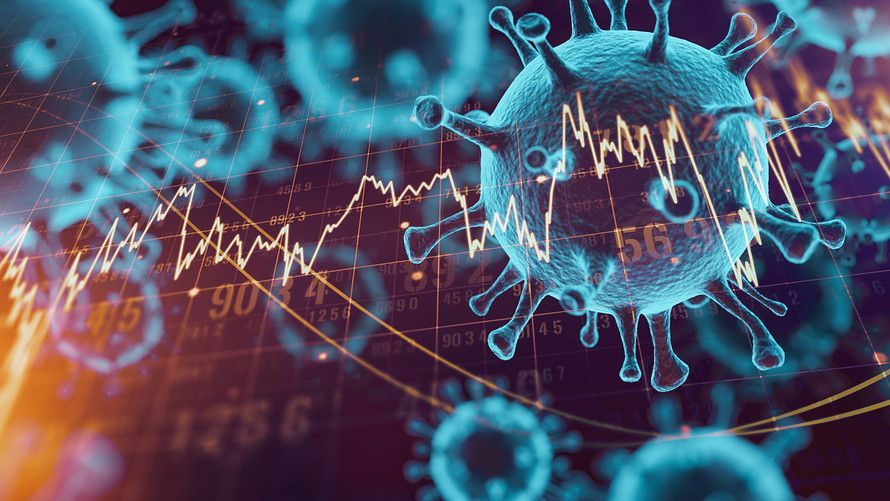 The Trading Room: Weekly Market Review – Week 16, 2020
Major global indices recorded mixed returns, as investors weighed record downturns in economic data against hopes that progress in containing the coronavirus pandemic might soon result in a partial reopening of major economies. Much of the week's gains in both local and foreign markets came on Tuesday, as investors reacted positively to reports of slowing coronavirus infection rates and hospitalizations in some of the world's hardest-hit nations.
European shares ended higher, clawing back earlier losses, on U.S. President Donald Trump's plan to start reopening the U.S. economy and hopes for a treatment for COVID-19, the disease caused by the coronavirus. The STOXX Europe 600 Index rose 0.61%. Other markets were mixed, with Germany's Xetra DAX up 0.66%, France's CAC 40 little changed, and Italy's FTSE MIB down 2.91%. The UK's FTSE 100 Index slipped 0.93%.
| | | | |
| --- | --- | --- | --- |
| Index | Friday's Close | Week's Change | % Change YTD |
| DJIA | 24,242.49 | 523.12 | -15.05% |
| S&P 500 | 2,874.56 | 84.74 | -11.03% |
| NSE20 | 1,973.82. |  6.69 | -0.34% |
| S&P MidCap 400 | 1,561.43 | -24.63 | -24.31% |
| Russell 2000 | 1,229.10 | -17.08 | -26.33% |
European Central Bank (ECB) President Christine Lagarde repeated at an International Monetary Fund (IMF) meeting that the central bank is willing to do everything necessary within its mandate to help the euro area pull through the coronavirus crisis. She said the ECB is fully prepared to increase the size of its asset purchase programs and adjust their compositions by as much as necessary and for as long as needed. Lagarde also said that the central bank will explore all options and all contingencies to support the economy through this shock. The ECB is bracing for a "large contraction" of the economy and, at least initially, falling inflation, she said.
Japan's Nikkei index gained 3.15%, South Korea's KOSPI rose 3.2%, and India's Mumbai Sensex rose more than 3.2%. Taiwan's TSEC 50 Index and the Hang Seng in Hong Kong rose about 1.5% each, while Shanghai Composite Index in China was up less than 1%.
Oil prices have remained weak even after the Organization of the Petroleum Exporting Countries and other producers last weekend announced a deal to cut output. Brent futures rose 26 cents, or 0.9%, to settle at $28.08 a barrel while West Texas Intermediate crude contract for June, which became the day's more active contract, ended the session down 50 cents, or 2%, at $25.03. The less active prompt WTI for May delivery tumbled by $1.60, or 8.1%, to $18.27, ahead of its April 21 expiration. The contract slumped to a low of $17.31 a barrel during the session, the lowest since November 2001.
The Nairobi Securities Exchange had a moderate decline in turnover to stand at Kes 2.38Bn from the Kes.2.76Bn posted the previous week. Market had a 4-day trading week as markets closed Monday for Easter Celebrations in Nairobi. Market resumed with a decline in foreign demand on the blue chip counters that have played an important role on the defensive strategy investors were using to stop the exchange from any further decline.
Kenya Power was the weeks top gainer, closing Friday at Kes. 2.22 per share a 14.43% rise in price change from last weeks close of Kes 1.95. Unga Group & BOC Kenya followed  with 11.1% and 10.0% rise in price respectively, reflecting market sentiments of the market's on BOC's technical advantage during the corona virus in the country by mass production of medical Oxygen which is highly needed for patients in the Intensive care units.
Kenya Airways continued the slide in the week, emerging as the worst performer this week. KQ closed at Kes. 1.07 per share a 14.4% decline from last week's close of Kes 1.25 per share. KQ is currently on turbulent headwinds as flights across the world remain grounded due to the global coronavirus pandemic.
Safaricom maintained the week's biggest mover, actively moving 37M shares valued at Kes.1.0Bn at prices of between Kes.26.30 and Kes.28.50; this represented 42.62% of the week's traded value.Banking Sector had shares worth Kes.1.1Bn transacted which accounted for 44.90% of the week's traded value. KCB Group moved 15M shares worth Kes.524M and closed the week at a fairly stable price of Kes.34.60. Equity Group Holdings edged up 0.46% to Kes.32.95 with shares worth Kes.463M transacted.
Our view: The spot market remains volatile and will likely decline further without adequate measures by the government such as economic stimulus packages such as corporate tax incentives during this pandemic. The market will continue to be affected by the rising cases of Covid-19 in Kenya until such a time when investors shall have regained confidence that the curve is flattening.
The NSE 20 share index was up 6.69 points or 0.34 to stand at 1973.82.
All Share Index (NASI added 4.86 points or 3.71% to settle at 135.93.
The NSE 25 Share index picked up 77.68 points or 2.53% to stand at 3145.15.
The FTSE25 Kenya share index  gained 4.53 points or 2.63% to close Friday at 176.55.
The Derivative Market of the NSE (NEXT) closed the week with a total of 3 contracts worth Kes.104,000. The KCB contract expiring in 18th June 2020 had 2 contracts valued at Kes.70,000 transacted, a slight decline from last week's 4 contracts worth Kes.93,000
The secondary bond Market on the NSE had a 52.5% rise in activity with bonds worth Kes.6.1 Bn transacted compared to Kes.4.0Bn registered last week. The FTSE NSE Kenya Govt. Bond Index closed the week lower at 96.43 basis points.